Godstone Farm E. coli outbreak children get damages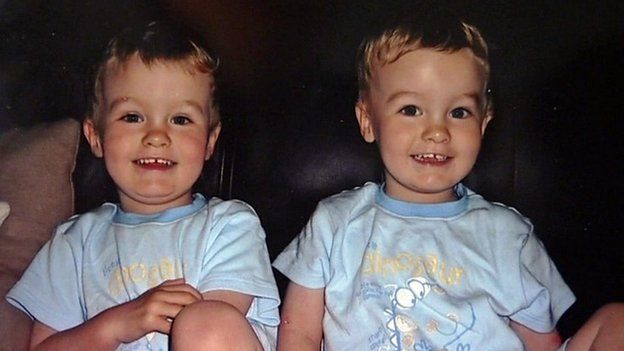 The 10 children who were worst affected by an E.coli outbreak at a petting farm in Surrey have settled their damages claims.
A total of 76 children under the age of 10 became ill after they contracted E. coli at Godstone Farm in 2009.
Lawyers Field Fisher Waterhouse said the settlements in respect of the 35 victims they represented - including the 10 - were in excess of £1m.
The farm had previously been ruled as wholly liable for the outbreak.
The awards, which will be paid by the farm's insurers, are provisional, meaning the children can return to court for further compensation in future if their conditions deteriorate.
Twins Aaron and Todd Furnell, from Paddock Wood in Kent, suffered acute kidney failure after contracting E. coli following a trip to the farm when they were two.
Aaron needed a feeding tube for liquids for several months, and both children may need kidney transplants in the future.
Other toddlers were also seriously ill on dialysis, and many of the children affected now have compromised kidney functioning.
The children's counsel, Frank Burton QC, told the judge that each of the 10 suffered a "life-threatening event" and some were left with scarring and a fear of hospitals, doctors and needles.
"However, it is a great tribute to all of them and their parents that they faced these family tragedies with remarkable resilience," he said.
The judge, Sir Colin Mackay, at London's High Court, approved the settlement as sensible and fair.
He said: "I can't think of anything more ghastly for young children of single-figure age to go through these procedures on a repeated basis.
"I think the outcome has been remarkable thanks to their courage and that of their parents."
The farm shut on 12 September 2009, four weeks after the first case of E. coli was reported. It was closed for three months and reopened in December 2009.
Field Fisher Waterhouse partner Jill Greenfield said: "The horror of what these children and their families have been through is difficult for anyone to describe."
She added: "What angers parents even more is the fact that the farm remained open over the Bank Holiday weekend at a time when there was a level of knowledge that E.coli 0157 was around.
"How tragic that these young children were allowed to skip into this farm completely oblivious to the danger that awaited."
Related Internet Links
The BBC is not responsible for the content of external sites.