Prison may be demolished for housing in Guildford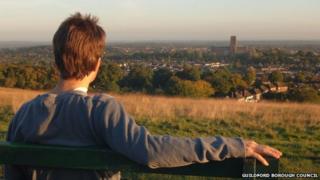 A university, prison, industrial estate and two army barracks could be demolished to allow housing to be built, a Surrey council says.
A study by Guildford Borough Council into possible sites for houses and other development to be built has been published as part of the local plan.
A draft replacement of the 2003 local plan is due to be published this month.
Following further public consultation it will be submitted for approval in January 2015.
A council spokesman said: "The study pinpoints possible locations for housing and other development, if we cannot identify sustainable land in urban areas."
Village expansion
Among the sites being considered are the University of Law, HMP Send, Keogh and Pirbright barracks, Peasmarsh industrial estate and the Research Institute at Pirbright, the council said.
The Green Belt and Countryside Study also suggests the possibility of "major expansion of most sustainable villages" and a "new settlement" at Wisley airfield.
Tony Edwards from the Wisley Action Group, said: "To describe the Wilsey airfield as a 'previously developed site' because of a strip of concrete is like saying Salisbury Plain should be built on because of a circle of stones."
He said there were enough brownfield sites in the area.
"They [the council] just can't be bothered to look at them," he said.
Councillor Monika Juneja, council member for planning, said: "It is important to emphasise that we have not made a decision on future development sites.
"Our evidence base documents provide information on the options available and the level of growth we can potentially accommodate."
Further public consultations will be held over the summer following the publication of the draft local plan later this month, the council said.