Surrey lightning strike: Kyle Taylor describes 'massive blue flash'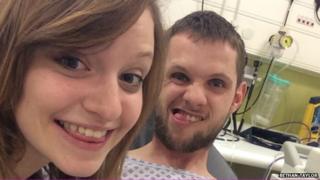 A man has described the moment he and two of his colleagues were blown off a lorry when it was struck by lightning.
Kyle Taylor, 26, was unloading scaffolding from the vehicle in Park Lane in Camberley, Surrey, when it was hit at about 13:00 BST on Tuesday.
Mr Taylor, from Southampton, said: "I saw a massive blue flash and ended up about 12ft (4m) away."
The men have been discharged from hospital but remain in pain, he said.
Mr Taylor, a scaffolding foreman, said they were moving the scaffolding with the help of a crane.
"Lightning hit the crane, it came all the way down the crane's chain and blew us off the lorry," he said.
"When my eyes finally opened I was numb and in agony. I was stunned."
He said he did not know how long he was unconscious for, and expressed his gratitude to South East Coast Ambulance Service paramedics.
The men were taken to Frimley Park Hospital, and have now been discharged.
"My colleagues are out of hospital now but they're in the same pain I'm in," Mr Taylor said.
"They said tomorrow we're going to feel like we've been hit by a bus."