Surrey lightning strike: Three men taken to hospital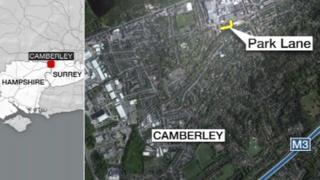 Three men have been taken to hospital after they were struck by lightning while working on the back of a lorry.
The men were unloading scaffolding in Park Lane, Camberley, Surrey, when they were hit at about 13:00 BST.
Two were thrown from the truck, with one landing 12ft (4m) away.
He suffered burns to his hands and the other worker hurt his back. A South East Coast Ambulance Service spokesman described the third man as" walking wounded".