FaceTime video chat driver stopped by Surrey Police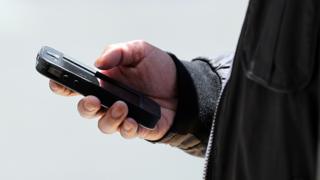 A motorist was seen using video chat app FaceTime while driving, Surrey Police have revealed.
The unnamed car driver was using a tablet on their lap while at the wheel.
Officers spotted the incident during a three-month pilot scheme which used an unmarked HGV tractor to target lorry drivers breaking the law.
Insp Richard Mallett, of the Surrey Roads Policing Unit, said officers had also spotted a lorry driver texting with one foot on the dashboard.
"The person FaceTiming was actually a car driver, but because we were higher up, we could see down into the car," he said.
He said most of those stopped were lorry drivers, but that a significant number of car drivers were also driving "appallingly".
A total of 436 vehicles were stopped between February and earlier this month, 270 of which were commercial vehicles.
'Little knife'
Some 333 drivers were given fixed penalty notices, 44 were given words of advice, 27 got graduated fixed penalties - given to those who do not have UK addresses - and eight were summonsed.
Insp Mallett said a knife with a 6in (15cm) blade had been seized from a Dutch lorry driver, who said in Holland it was "a little knife".
"One chap admitted 'I haven't worn a seatbelt for 20 years - this is the first time I've been stopped'," he added.
A petrol tanker driver "begged" officers not to tell his employer he was not wearing his seatbelt because he would lose his job, the force said.
A Lithuanian lorry driver said he was driving while using his mobile phone because it was unlawful to stop on the hard shoulder.
A driver who "hogged" lane three said: "It's your fault, officer, you shouldn't have been so close behind me".
Another, stopped for speeding, said: "How am I supposed to know my speed?"
The three-month pilot, called Operation Tramline, was led by Surrey Police and included officers from Sussex, Hampshire and the Thames Valley and Warwickshire, in partnership with the Highways Agency.
Insp Mallett said the force felt the scheme had been successful.
"Any incident we prevent prevents delays to the network and reduces the numbers of injuries and casualties on our roads," he said.