Zane Gbangbola death: Vicar calls for answers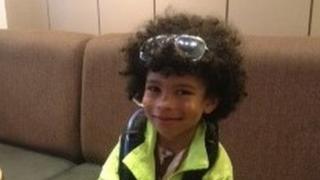 A vicar claims the time it is taking to find out the cause of the death of a seven-year-old during floods 10 weeks ago is making the family's grief worse.
Zane Gbangbola died in hospital after he was taken ill at home in Thameside, Chertsey, Surrey, on 8 February.
Post-mortem tests found no clear cause of death. Surrey Police are awaiting the results of a toxicology report.
The Reverend Laurence Gamlen, of Holy Trinity Church in Lyne and Longcross, said Zane's parents needed answers.
During the funeral service, he added: "It is acknowledged that the sudden death of a young fit boy and serious injury to a man in good health is worthy of the most careful and exhaustive investigation.
"But it was both hoped and expected that the agencies charged with carrying out this complex enquiry would do so with expediency, integrity and with due regard to the feelings of those most closely affected by this tragic event.
"It is a matter of concern that Kye and Nicole's grief is being compounded by the fact that the circumstances and the cause of Zane's death have still not been disclosed to them."
He reiterated his concern on Wednesday on a website called Truth About Zane, that was set up in March to campaign for more information about his death.
'Wrong to speculate'
In a statement, Surrey Police said: "The investigation into Zane's death remains ongoing. We await the results of further tests which are expected to take a number of weeks.
"It would be wrong to speculate on the cause of death at this stage. Officers continue to provide updates to Zane's family we fully appreciate that this is a difficult time as we await for updates from the pathologist."
Hundreds of people attended Zane's funeral in Chertsey on Saturday, including Zane's father Kye Gbangbola and mother Nicole Lawler.
The pair were also treated at St Peter's Hospital for a number of weeks after falling ill on 8 February.
After their Zane's death it was revealed that Mr Gbangbola had been pumping out flood water from their home for weeks.