Thousands of Surrey potholes fixed after wet winter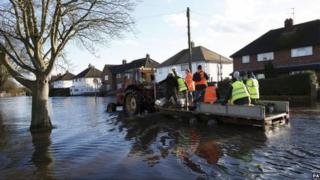 About 18,500 potholes were repaired across Surrey in the first two months of this year, compared to 14,000 a year earlier, the county council has said.
It has launched a major operation to step up repairs on roads affected by the winter's floods, which left it with an estimated total repair bill of £15m.
Nearly 30 repair squads - double the normal number - are working across the county in a four-week push.
The council plans to fix up to another 17,000 potholes over the coming weeks.
'Swerving drink-drivers'
In addition, it is continuing with a project to completely overhaul more than 300 miles (482 km) of roads most in need of improvement.
About 1,000 homes were flooded in Surrey in February after the River Thames reached its highest level in 60 years.
The wettest winter on record also resulted in damage to roads, bridges, embankments and footpaths across the county.
Last month, Surrey Police said the conditions of the roads were making swerving drink-drivers "difficult to spot".
Insp Richard Mallett, head of the force's roads policing unit, said: "Everyone is weaving about around the potholes."