Frances Andrade son hopes report will prevent similar tragedy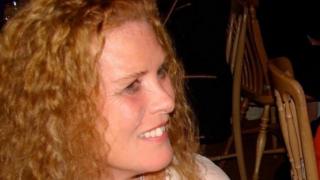 The son of a violinist who committed suicide after she testified in court has said he hopes a serious case review will prevent a similar tragedy.
Frances Andrade, 48, of Guildford, Surrey, died during the trial of Michael Brewer and his ex-wife Hilary.
They were found guilty of abusing Mrs Andrade when she was at Chetham's School of Music in Manchester.
Oliver Andrade said he hoped the report's suggestions would be "taken on board" by the relevant parties.
The mother-of-four took her own life at her home in Guildford, less than a week after giving evidence in court against ex-choirmaster Brewer at Manchester Crown Court in January 2013.
'Save lives'
The court heard that Brewer, the school's choir director, carried out the abuse at his office and his home.
Brewer, 68, and his former wife Hilary Brewer, 67, also known as Kay, were found guilty of sexually abusing Mrs Andrade when she was 14 and 15.
Brewer was cleared of rape and one charge of indecently assaulting the victim as a child in his home. He was jailed for six years, and his ex-wife was sent to prison for 21 months.
The serious case review said that Mrs Andrade's suicide "could and should" have been prevented, and that she had been let down as an adult by mental health services.
The Surrey Safeguarding Adults Board called for criminal justice professionals to improve the support offered to sex abuse survivors and recognise their "vulnerability" when facing their abusers in court.
Mr Andrade said: "I hope that their suggestions are taken on board by the appropriate parties so that processes can be improved and can help prevent similar situations occurring in the future."
He said mental health services should work together seamlessly and that it was important for counselling for vulnerable court witnesses to be encouraged.
He added that he wanted to see continued contact between witnesses and the officer-in-charge in a case after testimony and up to the end of the trial.
"This report has the ability to save lives and help some of the most vulnerable in society and so I sincerely hope it is taken to heart and helps to shape future policies," he said.