Chanel bag and Harrods vouchers stolen from Guildford home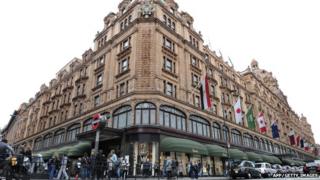 A woman alone at home with her young child has been attacked and a designer handbag and thousands of pounds worth of Harrods gift vouchers stolen.
She was upstairs in her home near Guildford, close to the cathedral, when she heard the doorbell ring.
When she went downstairs, she saw a man standing in her doorway who then threw a shoe at her, hitting her in the face.
The man, with two others, left with a Chanel handbag and five Harrods gift cards, worth a total of £2,500.
A Harrods loyalty card was also taken during the robbery.
The robbers were all described as white men, between 25 and 30 years old and wearing bandana type masks over their faces, Surrey Police said.
The handbag was described as a black classic design, with a logo on the opening flap.