Neil Tulley near-beheading: Homicide review commissioned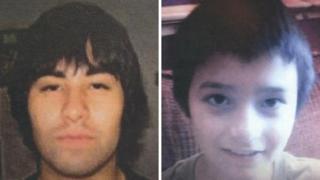 A domestic homicide review has been commissioned after a man died when he was nearly beheaded by his two stepsons at home in Surrey.
Neil Tulley, 54, was stabbed as he lay on the sofa in Cedar Way, Guildford, in August last year.
Joshua Ellis, 23, was convicted of murder and his brother Jerome, 14, was found guilty of manslaughter on grounds of loss of control.
The pair are due to be sentenced on Thursday, at Guildford Crown Court.
The review, which will be independently chaired by Katie Webb, of Waverley Borough Council, has been commissioned by the Safer Guildford Partnership.
Adults 'dysfunctional'
Ms Webb said: "The purpose of the Domestic Homicide Review (DHR) is to review the significant and relevant events that led to this incident and identify whether there are any lessons to be learned from the case about the way in which local professionals and agencies worked together to safeguard the family.
"I cannot comment further at this stage until the review has been completed and the report is published."
The partnership consists of Surrey Police, Surrey County Council and Guildford Borough Council along with a number of other organisations.
Jurors heard Mr Tulley, who was in a relationship with the brothers' mother Marie, was "asleep or nearly asleep" at the time of the attack, which was so severe he was nearly beheaded.
During the trial, prosecutor Philip Katz QC said the brothers had a complicated family background, with the adults described as "dysfunctional".
Threats to kill
A year earlier, Mr Tulley had threatened to kill Joshua and swung at him with an axe, the court heard.
Jurors heard Mr Tulley was arrested and charged with making threats to kill but was acquitted.
The court heard he returned to the crowded family home but relationships deteriorated further.
A post-mortem examination confirmed Mr Tulley died from multiple stab wounds and found he had "65 separate sites of injury" across his body, the most severe at the neck.
The brothers were found guilty of the killing by the jury in February.