Improving failing Surrey primary schools 'a priority'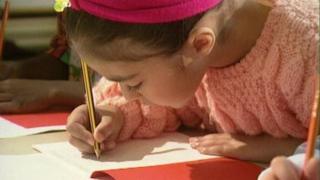 A quarter of state primary schools in Surrey need to improve or have been judged inadequate, according to an official report by the county council.
While 76% have been rated as good or outstanding by Ofsted, the council's education select committee said improving the situation was a priority.
Councillors also expressed concern about the progress rate of disadvantaged primary school pupils.
Statistics showed they were underperforming at most key stages.
The proportion of secondary schools in Surrey judged to be good or outstanding, up until the end of the 2012-13 academic year, was 87%.
The national average is 80%.
'Perform better'
Surrey County Council is responsible for 384 primary and secondary schools, of which 313 were given the two best grades.
Linda Kemeny, cabinet member for schools and learning, said while the figures reinforced the fact that Surrey had some of the best state schools in the country "it doesn't mean we will rest on our laurels".
"We know there are Surrey schools that can perform better and we are doing everything possible to make sure they match up to the 80% or more that are already outstanding or good," she said.
Ms Kemeny added that almost £330m would be spent over the next five years to provide an extra 13,000 primary and secondary places.