Addlestone to get new school on Runnymede Centre site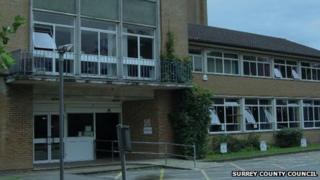 A new secondary school is to be opened on the site of a Surrey County Council office building to cope with "spiralling" demand for places.
Runnymede Centre in Addlestone, a former school building, is likely to be demolished to make way for the 900-plus pupil school due to open in 2017.
A union said its members working at the offices were not informed about the decision before it was announced.
It said a four-week consultation had now been agreed, starting on 2 April.
About 200 people working for the library service, children's services and social services are based at the centre in Chertsey Road.
'Fairly old'
The building was used as a relief centre for people affected by flooding until two weeks ago.
The union Unison said its members were not allowed back inside before the consultation period had been agreed.
Spokeswoman Jenny Mason said some staff would be moved to other offices, while others would work from home.
Councillor Linda Kemeny said the current building was "fairly old".
"The best option would be to rebuild to make it a modern secondary provision for the next 20-30 years," she said.
The new school will have six classes per year for students aged 11-16. It could be enlarged to take 1,200 pupils in the future.
Ms Kemeny said there was pressure on schools in urban areas such as Runnymede.
"We are undertaking the biggest school investment programme in Surrey's history at the moment," she said.
"We have provided more than 5,000 primary places in the two years and we are now moving to secondary provision."