Painting found in Surrey church cupboard fetches £1,800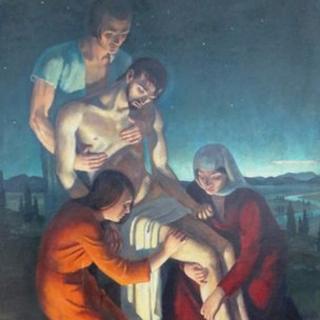 A painting found at the back of a cupboard when a Surrey church was cleared has raised £1,800 at auction.
The Adrian Allinson painting, Before the Sepulchre, was discovered in Ruxley Church in Ewell during the move to a new building in Ruxley Lane.
On Wednesday, at Bellmans in West Sussex, it reached its reserve price of £1,800.
The money will be used to buy new equipment, such as stage lighting, for the church.
Ruxley Church project treasurer Derek Eade said he was "thrilled to bits" with the result of the auction.
He added: "It was like a godsend after years of fundraising as as it was £1,800 in one go."
The new church, costing £3.2m, replaced the old Ruxley Methodist Church and the Anglican St Francis Church of Assisi which was demolished because of subsidence in 2002.
Bellmans painting specialist and auctioneer James Gadd, said: "Adrian Allinson has a very good name among modern British artists - but this as a religious subject was not going to be everyone's cup of tea.
"So the fact we sold it for the reserve price is pretty good."
The painting by the British artist, who lived from 1890 to 1959, was given to St Francis of Assisi Church in the 1960s.
It had been valued at £3,000 on the BBC's Antiques roadshow.