Redhill landfill site 'upgrade' to beat smell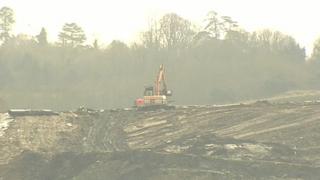 The operator of a rubbish tip in Surrey has said it will upgrade its infrastructure to stop the smell of rotten eggs escaping.
Biffa said it would carry out an engineering review of the site in Redhill so it could better deal with future exceptional weather conditions.
The company has blamed heavy rainfall earlier this year for delaying planned work to increase gas collection.
Over 500 complaints have been made to the Environment Agency about the site.
Residents began complaining about the smell from the site in Cormongers Lane in January.
Green Party councillor Sarah Finch said the "sewage-tinged" stench seemed to be at its worst in the first week of March.
'Reduction in complaints'
Managing director of Biffa's landfill division, Mick Davies, said Biffa believed the smell was caused by low levels of hydrogen sulphide gas.
Various measures had boosted gas extraction by 25% across the site.
"In the last few days we have seen a reduction in odour complaints, which is pleasing," he said.
"It is about doing more of the same and getting more control."
The company said it sent monitoring data for assessment by health and safety consultants Santia, which found there was no risk to human health from the gas.
"Any inconvenience is sincerely regretted," it added.