Surrey County Council taskforce to 'learn lessons from floods'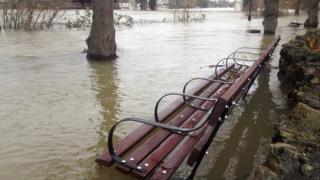 A taskforce has been set up to "look at the lessons that can be learned" from the floods in Surrey.
The estimated repair bill for damage to Surrey's roads, bridges and embankments is £10m.
The Conservative leader of Surrey County Council, David Hodge, said that meeting the costs of the damage would be a "challenge".
The Lib Dems said the Tories' approach to tackling flooding was "anodyne".
About 1,000 homes were flooded in Surrey last month after the River Thames reached its highest level in 60 years.
'Costs going up'
Mr Hodge said the council would ensure it receives its "rightful share" of government funding.
Speaking at a council meeting earlier, he said: "The county council is checking the damage to our roads, bridges, embankments and footpaths, right across Surrey.
"I regret the costs [of repair] will go up as the full impact of last month's extreme weather is confirmed.
"Meeting these costs in the current economic climate will undoubtedly be a real challenge for this council.
"It is only right that we reflect on what we've done but also learn lessons for the future."
Failings criticised
David Harmer, who is the chairman of the environment and transport select committee, will lead the taskforce.
It will firstly examine what happened from the point of view of the council's major incident team.
It will then interview different organisations and people who were involved during the flooding.
Lib Dem spokesman Stephen Cooksey said his party had put forward a motion criticising the council's failings in preparing for flooding but it had not been discussed.
"The motion set out some suggestions for the urgent action that in our view is required in order to repair the damage and prepare for similar future situations," he said.