Shepperton Eco Park: 43 changes approved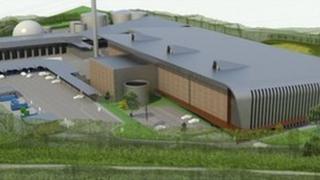 Changes to a proposed waste processing plant in Surrey have been approved after a dispute over pollution and safety fears.
Waste firm Sita already has planning permission to expand the Eco Park in Charlton Lane, Shepperton but has made 43 changes to plans approved in 2012.
Spelthorne Borough Council has always opposed the plans, and sought a judicial review.
A report to Surrey County Council said the changes were a "minor amendment".
They include a new design of gasification technology by which household waste is turned into gas and burnt to provide electricity.
Another procurement process had to be held after the original company that designed the system went into receivership.
'Wasn't viable'
The height of part of the design has increased from 34ft 5in (10.5m) to 46ft (14m) and the diameter of the gasification stack from 8ft 2in (2.5m) to 12ft 6in (3.8m).
Lib Dem councillor Ian Beardsmore said it was clear the original application was deeply flawed.
"We were told that it was viable, we were told that it was sound and above all we were told it was safe," he told the county council's planning committee.
"It wasn't viable, it wasn't sound and it wasn't safe."
But planning development control manager Alan Stones said: "Our view is that even though in technical terms it is slightly bigger than it was before there are... special circumstances which clearly outweigh the harms."