Farnham shooting: Dog breeder held after two women shot dead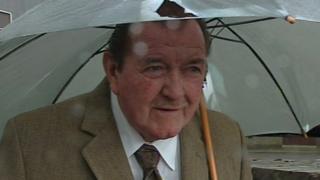 An 82-year-old dog breeder has been arrested on suspicion of murder after two women, believed to be a mother and daughter, were shot dead.
Surrey Police found the bodies of a woman in her 40s and a woman in her 60s near Farnham on Sunday.
Officers found the older woman's body inside Keepers Cottage Stud in Waverley Lane. The younger woman's body was found outside near animal pens.
The arrested man has been named locally as John Lowe.
Officers were unable to resuscitate the two women.
They also found four dogs which had been shot dead - three German shepherds and a Labrador.
Ch Insp Mark Preston said one long-barrelled weapon was found at the house.
The secluded property is surrounded by dense woodland and has a quarter-mile driveway lined with signs to say 24-hour CCTV surveillance is in operation.
The women have not been formally identified.
Police said they were not related to the arrested man, but both of them knew him. Neither of them lived at the property.
Ch Insp Mark Preston could not confirm who initially alerted police, but he said the arrested man was uninjured and remained calm when officers went to the house.
No-one else was at the property at the time of the shooting, Ch Insp Preston said.
Ch Insp Preston said he could not comment on whether the gun was legally owned.
He confirmed police had had dealings with the arrested man in the past and said the matter had been referred to the Independent Police Complaints Commission (IPCC).
He did not believe there were any active investigations in relation to the suspect at the time of the shootings.
An IPCC spokesman said they were aware of the incident and would be making a decision about whether they would investigate the matter.
On Monday evening, magistrates gave police a further 24 hours to continue questioning the suspect.
Post-mortem examinations were still in progress, police said.
Officers have also said police inquiries are likely to continue at the property until the end of the week.
Dogs, cats and horses were being removed from the property, the RSPCA said.
In 2004, Mr Lowe was investigated by the BBC's Inside Out programme, which claimed he was breeding scores of dogs and selling puppies in poor condition.