Thames Water sewer network inundated after floods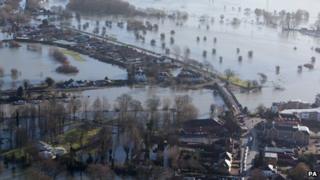 Sewage affecting homes in Surrey cannot be tackled until the levels of flood water in the area have fallen, Thames Water has said.
It follows complaints by Chertsey residents that raw sewage has covered drives and gardens.
The company said its entire network was flooded and it had to prioritise people who had sewage inside their homes.
Thames Water said it was still assessing how many of its customers had been affected.
A spokeswoman said the company had received triple the number of calls it usually received about problems with waste, and staff were working overtime and weekends to help answer calls.
'Tanker stood down'
She said Eastworth Road in Chertsey had a potential sewer collapse, and engineers needed to inspect it with CCTV cameras.
"Until the levels in the sewer actually drop, we're not able to do this," she said. "We can't go putting people and equipment into manholes that are full to the top with water."
Sandbags were being placed around "problematic" manholes to try to stop solid waste getting into gardens, she added.
A tanker had been used to remove waste water in Eastworth Road but was stood down after complaints about noise, she said.
Public Health England (PHE) issued advice about clearing up after floods after residents raised concerns about health hazards.
People clearing sewage should use rubber boots and gloves, clean hard surfaces with hot water and detergent, and wash soft items at 60C or dispose of as appropriate.
PHE said hand washing was the most important way to remove harmful bugs and people should use warm, clean water and soap, cold water if no warm water is available, or disposable soapy wet wipes or sanitising gel if no clean water is available.