Chertsey residents' health fears over floods sewage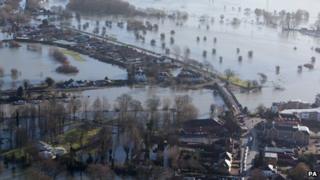 Flood-hit residents whose drives and gardens have been left covered with raw sewage have complained Thames Water has not helped them.
Thames Water has said it is working around the clock to deal with the situation, but homeowners said they had been left to struggle for weeks.
Two mothers in Eastworth Road said they feared for their children's health.
Experts said residents could limit health risks by following basic hygiene and disinfecting surfaces.
Joanne Kittle, who has two young children, said she had seen condoms, sanitary towels, incontinence pads and faeces around her property.
Floods hit the area at Christmas and she said sewage problems had continued for weeks.
'Rats living in sludge'
Sarah Cousins, who lives in the same road, said she alerted Thames Water to the problems on 5 January, and she now feared for her daughter's health because she believed groundwater flooding under her house was contaminated.
She said she had a chest infection that she thought was related to the sewage.
Rats were living in "inches" of sludge on her patio, she added.
Thames Water said a team visited Eastworth Road on Wednesday to clear as much mess as they could, and a tanker had been used to pump away waste water.
"We believe there may be a collapsed sewer in the area, and we have arranged for an engineer to do a CCTV inspection to confirm this," a statement said.
It added: "Our resources are stretched and we are on constant high alert, but we are doing our best in difficult circumstances."
Runnymede councillor Derek Cotty said the situation was unacceptable and action so far had been "too little too late".
He said response centres had been set up to deal with flood-related problems and urged people to report environmental health issues.
Dr Simon Park, a molecular microbiology expert from Surrey university, said salmonella, E. coli and hepatitis could be present in the water.
He said children should not play out in the gardens, wellington boots used outside should not be brought inside, and hand washing should remove bacteria and viruses but alcohol wipes could also be used.