Flooded Staines house targeted by burglars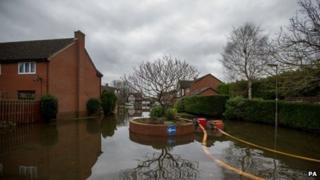 The first incident of a flooded home being burgled has been reported to Surrey Police.
The house, in Greenland Road, Staines, had been unoccupied for 10 days when it is believed to have been targeted on 14 February.
Some personal documents are thought to have been taken from a cabinet in an upstairs study, police said.
More than 1,000 homes in the county have been flooded while a further 2,000 to 2,500 have been affected.
'Rumours circulating'
The force said it is believed that entry was gained through a window or door which had been left open due to flooding.
Ch Supt Matt Twist said: "Although there have been rumours circulating on social media about looting, this is the first report Surrey Police has had of a burglary from a flood affected property.
"We are doing everything we can to help protect people, their homes and businesses during this challenging situation - there is extra police presence in areas where properties have been evacuated to deter crime.
"Residents should remain vigilant and report any suspicious behaviour to police and we will respond.
"If you do leave your property, always ensure that all doors and windows are locked."
Anyone with information is asked to contact the force.