Concrete runway for Redhill Aerodrome turned down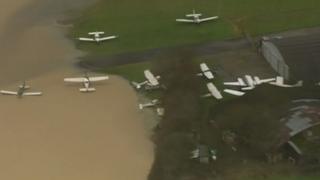 Plans to build a hard runway in place of grass at a Surrey airfield have been turned down by a planning inspector.
The owners of Redhill Aerodrome had wanted to replace its three grass strips and increase the number of flights from 60,000 to 85,000 a year.
They said the move would have protected 140 jobs and created 120 more.
Following last month's public inquiry, the planning inspectorate ruled the development was "inappropriate" and could "harm the green belt".
The aerodrome is home to more than 20 companies and has been in operation for about 80 years.
'Weak argument'
Reigate and Banstead Council and Tandridge Council rejected the scheme last year.
Residents groups and Surrey Campaign for the Protection of Rural England were among objectors who gave evidence to the inquiry.
Local Conservative MPs Crispin Blunt and Sam Gyimah lodged formal objections to the development and have welcomed the inspectorate's decision to refuse the aerodrome's appeal.
Mr Blunt, who represents Reigate, said the aerodrome's argument that the development would bring economic and employment benefits to the area had been "weak".
"It was my riposte that our borough's economy and employment situation are comparatively strong, certainly when put against the picture nationally: unemployment is at 1.7% in Reigate, whilst is it 3.8% across the UK as a whole," he said.
Mr Gyimah, the MP for East Surrey, said the proposal represented "a completely inappropriate use of green belt land, and would have had a major detrimental impact on the surrounding area".
Redhill Aerodrome said a hard runway would have helped prevent flooding as the current grass runways could get waterlogged very easily.
The airfield flooded as a result of heavy storms last month.
In a statement, it said it was "extremely disappointed" by the inspector's decision.
"It is a great pity that the livelihoods of so many people and the opportunities for additional jobs, training and apprenticeships have been given so little weight," it added.