UK storms: Surrey 'flood tourists' driving through water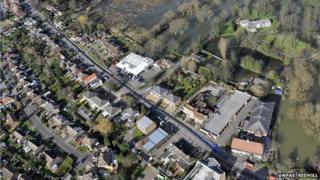 Sightseers in flood-hit areas of Surrey have been driving through water at speed causing bow waves to wash into properties, according to residents.
Police said they had received reports of "tourists" specifically driving their vehicles through the floods.
Assistant Chief Constable Gavin Stephens said: "Flood tourism is not helpful. If there is no reason to drive through water then please stay away."
Hundreds of homes along the River Thames remain flooded.
Fourteen severe flood warnings - meaning a danger to life - are still in place for areas around the river as recovery teams work around the clock pumping out water and helping people who have been forced from their homes.
There is also a risk from rising groundwater levels on already saturated ground.
Flood appeal
Last week in flood-hit Worcester, where the River Severn reached its highest level in recent years, businesses were so badly hit that people wanting to photograph the river in full flow were not turned away.
In Chertsey, which sits on the Thames in Surrey, an aquadam has been installed to protect homes from flood waters.
The sausage-shaped plastic tube has been filled with water to create a flood barrier between the Thames and 200 homes on one side of Bridge Road.
BBC Surrey reporter Adrian Harms said about 15,000 litres of water a minute was being pumped from behind properties "with some effect".
"People were telling me yesterday that the water levels in their back gardens and coming up to their properties had receded," he said.
Meanwhile, a flood recovery appeal has been launched for victims in Surrey.
It has been set up by the Community Foundation for Surrey to "relieve the immediate hardship people are facing and support their recovery over the coming weeks and months".
The funds will support the charities and volunteers who have been helping victims.