Surrey flooding: Further rescues as more storms forecast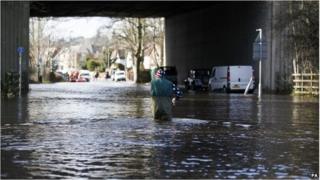 Emergency teams rescued a further 32 people from floods in Surrey during a one-day respite from stormy weather, but the Thames area is again on alert for more rain, police have said.
Nearly 900 people have been rescued across the county since Sunday.
More flood barriers have been set up with further storms forecast, Assistant Chief Constable Gavin Stephens said.
The Environment Agency said river levels had fallen but were expected to respond to rain over the next few days.
Mr Stephens said: "We had a little bit of respite from the weather, but sadly that's not to last."
About 150 officers were on the streets helping people, he added.
Rest centres were currently empty and people who had left their homes had found places to stay, he said.
'Looting fears'
Troops from the 2nd Battalion The Royal Gurkha Rifles and the 2nd Royal Tank Regiment are helping the Environment Agency construct a dam in Bridge Road, Chertsey, to protect 200 homes from flooding.
BBC Surrey's Adrian Harms said the sausage-shaped plastic tube, which has already angered some residents because it only covers one half of the street, was not expected to be completed until the end of the day.
Temporary flood defences have also been put in place in Staines.
Meanwhile, care provider Anchor is providing emergency shelter for elderly people who have been evacuated from their homes.
Eric and Monica Souster, aged 94 and 82, had to leave their home in Weybridge on Wednesday and are now staying at West Hall care home in West Byfleet.
More than 50 roads remain closed but people are still driving through them.
Urging drivers not to use those routes, Mr Stephens said: "Vehicles have driven through road closures, they've caused waves, and they've caused more flood water to go into homes."
After reports of looting on social media, he said there had been reports of suspicious behaviour but he was not aware any crimes had been committed.
Mr Stephens also issued a half-term warning to parents not to let children play near flood water, adding it was a health hazard.
David McKnight, from the Environment Agency, said severe flood warnings - the agency's highest level of alert - remained in place for the Thames.
He said: "Levels are still at that significant height and we're very concerned about the rainfall forecast for the next few days."
Two councils have responded to residents' concerns about difficulties in finding sandbags.
'Sandbag waiting list'
Surrey County Councillor Denise Saliagopoulos said 20,000 sandbags had been given out.
She said requests for sandbags went on a list, with vulnerable people such as the elderly and families with young children helped first, but added: "You're not going to be ignored, they will get to you eventually."
Spelthorne Borough Council said it was processing every request for sandbags and toilets and getting them to residents as quickly as possible.
It also said the most vulnerable residents - the elderly, infirm, those with young children and those with disabilities - were being treated as top priority.
Alex Tribick, Spelthorne Business Forum chairman, was stranded in his home in Shepperton by thigh-deep flood water.
He said he did not think anyone could have prepared for the "unprecedented" floods, but he had seen several sandbag lorries, with council officials and volunteers working hard to ensure they were evenly distributed "in very trying circumstances".
He said the flooding would have a "massive knock-on effect" on businesses and it would take considerable time for people to recover financially.
Surrey Police is investigating the theft of a kayak from Cornwall Way in Staines on Thursday, which was being used to help people who had been affected by the flooding.
Appealing for information, Det Sgt Mike Seear described the theft as "appalling".
"These thieves have not only stolen from the owner but taken a vital resource from the local community at a time when they need it the most," he said.
Assistant Chief Constable Gavin Stephens, of Surrey Police, said: "We still have around 130 dedicated officers and staff assisting evacuations, helping to install flood defences, and protecting evacuated homes and we are working on contingency plans to ensure we can maintain this level of resource over the days and weeks to come."