Joshua and Jerome Ellis 'nearly beheaded stepfather Neil Tulley'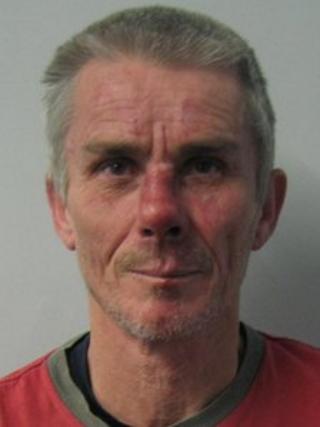 Two brothers killed their stepfather in a knife attack so savage he was nearly beheaded, a court has been told.
Joshua Ellis, 23, and Jerome Ellis, 14, were each armed with a large kitchen knife when they attacked Neil Tulley, 54, at their family home in Surrey.
Prosecutor Philip Katz said they intended to kill Mr Tulley, who was asleep or nearly asleep on the sofa in Cedar Way, Guildford.
The brothers deny murder but admit manslaughter.
Mr Katz said they were claiming diminished responsibility due to Joshua's mental condition at the time of the killing and that they had both lost control.
A post-mortem examination found Mr Tulley, who was in a relationship with their mother Marie, had 65 separate sites of injury across his body, some made up of multiple wounds.
The jury was told the family's background was complicated.
By the time of the attack, on the night of 12 August, the relationship between Mr Tulley and Ms Ellis had deteriorated and he was sleeping on the sofa.
'Swung with axe'
"The seed of what happened in August 2013 may have been planted the year before," Mr Katz told Guildford Crown Court.
"Mr Tulley had threatened to kill Joshua and had swung at him with an axe.
Mr Katz said he was tried for attempted murder and acquitted then returned to the family home.
"You will consider how these dysfunctional adult relationships impacted on these defendants," he said.
Joshua had become a "virtual recluse" who was obese and withdrawn and living in the attic bedroom while Jerome was having problems at school.
Three other children were living in the house.
Mr Katz said Mr Tulley's body was discovered only after the children's grandmother was told about his death on 14 August and the emergency services were called.
The brothers had left the house and were found in a church porch by a bell ringer who had just finished a practice session, the court heard.
The kitchen knives had been buried in bags in a riverside nature reserve, the jury was told.
"There cannot be any question these two defendants were acting in self-defence," said Mr Katz.
The trial continues.