Duchess of Cornwall visits HMP Coldingley prisoners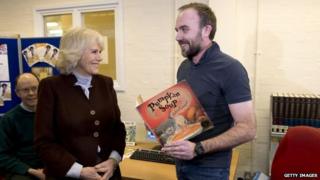 The Duchess of Cornwall has visited a prison to meet inmates receiving help with their literacy skills to maintain bonds with their families.
Camilla visited HMP Coldingley in Woking, Surrey, and saw a scheme which helps fathers improve their reading.
Storybook Dads allows the fathers to record and edit a CD audio story which is sent to their children.
Daniel Snelling, 38, recorded his version of the book Pumpkin Soup for his three young children.
Camilla, who is patron of the National Literacy Trust, listened to the recording in the prison library.
She also toured the onsite print workshop, where prisoner Gary Bird presented her with a Valentine's Day card which was printed in the prison.
Coldingley was opened in 1969 as a category B training prison, but re-designated in 1993 as a category C training prison which focuses on the resettlement of prisoners.
It houses more than 500 inmates serving a variety of sentence lengths, including life.
The duchess also visited the Rape and Sexual Abuse Support Centre (RASASC) in Guildford, which provides counselling and support to male and female survivors of rape and sexual abuse.
She met some of the 70 volunteers who help at the centre, and also had a private meeting with a female survivor who told her of the trauma she had faced.
Sonja Freebody, the centre's spokeswoman, said: "The duchess was so interested in what we do.
"I think she really understands the emotional turmoil that people go through if they experience rape or sexual abuse."
The duchess also visited St Catherine's School in Bramley, Guildford, which was established in 1885 by a group of local dignitaries including her great-great grandfather the Rt Hon George Cubitt.