Chertsey residents claim 'homes sacrificed to save others'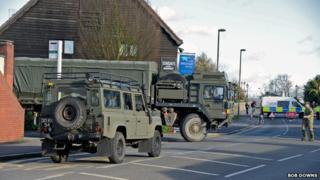 People living on an unflooded street in Surrey have claimed that their homes will be sacrificed to save those of their neighbours.
The Army is installing flood barriers in Chertsey to try to save 200 homes.
But residents of Meadow View, where a temporary defence will be situated, said they had been told their homes would suffer.
The Environment Agency said: "We don't sacrifice one community for the benefit of another."
Surrey's flood response is to continue over the coming weeks after the River Thames reached its highest level in decades, with more storms predicted.
Emergency teams dealing with the crisis have said more rain is forecast and water levels will still fluctuate.
Nine severe flood warnings - the Environment Agency's highest level of alert - remain in place on the Surrey stretch of the Thames.
Soldiers unloaded five lorry-loads of sandbags earlier to try to save homes from possible flooding over the weekend.
Andrew Graham, from the Environment Agency, told BBC Surrey the agency was trying to put in a temporary defence along the Bridge Road.
He said: "It's effectively some very large tubing which will be filled with water which will create a barrier so if the river comes back up again as a result of rain over the weekend, this will protect about 200 properties to the south of the road."
Caroline Camis, who lives in Meadow View, said agency staff had told a meeting of residents that five homes, including hers, would not be protected by a barrier that will be constructed in the centre of the road.
"Police from Sussex came yesterday and they said unfortunately our five houses have got to take the brunt of it and will suffer - and we're on the bad side - to save other houses in Chertsey," she said.
"At the moment, there's not a drop of water on our street - if they let nature take its course our house would not flood."
Ellie Mowen, her neighbour, added: "We're all quite annoyed because as you can see, there's five houses that are supposedly on the wrong side of this barrier.
"Some people are getting help and others aren't."
Mr Graham said the agency was not choosing between communities.
He said all the sluices on all the weirs along the length of the river had been open since around 4 January
"The water will, after we've done that, pretty much go where it wishes, so there isn't any manipulation of water levels up or downstream, and we don't sacrifice one community for the benefit of another."
A further 250 people were rescued on Wednesday, bringing the total to 850.
'Highest water since 1947'
Chief Constable Lynne Owens said: "It is a major incident for the county and unfortunately we are planning for the long run - for the next 15 days."
She said the situation had the potential to get even worse over the weekend.
"We have higher levels of water than we've ever seen in the county and we're looking back to 1947 and before," she added.
Surrey Police said boat patrols and cameras were being used to protect evacuated properties, with number plate recognition cameras stationed on routes in and out of flooded areas to deter criminal activity.
Ch Supt Matt Twist said: "We understand there are real concerns about criminals taking advantage of the flooding and targeting empty properties."
The Red Cross tweeted that volunteers were providing first aid and practical and emotional support to flood evacuees.
Carbon monoxide alert
In Egham, drains are struggling to cope with the heavy rainfall, meaning that some people have been unable to use their toilets, and are being encouraged to use buckets filled with cat litter instead.
Egham resident Steve Wilkins said it took three hours for the flood water to go from his front garden to the ground floor of his house and added: "It just came up as quickly as that."
In those three hours, he moved valuables such as the TV and computer upstairs, and took up some carpets.
At first he and his family decided to stay in their house and see if the water went down, but 10 hours later they had to dial 999 to be rescued by boat.
Speaking from a hotel on Thursday, Mr Wilkins said: "We actually did get a bit of sleep, although we are of course quite disorientated.
"My boy has special needs and he thinks he's going home this morning, but he's not, of course."
He said in the end the evacuation happened "very quickly" and his family ended up in a hotel having forgotten many things they needed.
"We're living from day to day now," he said.
Surrey Fire and Rescue Service has warned of the dangers of fumes from power generators and water pumps that use petrol or diesel.
The fire service said many residents and businesses had been using the pumps and generators for many weeks.
Carbon monoxide advice and detectors are being distributed in flood-hit areas.
A further alert has come from health providers who do not know where their patients have moved to - people who receive nursing or social care at their home are being urged to let carers know their new location.
Public Health England has also issued advice to flood victims about minimising health risks.