Surrey fire station closure legal challenge considered by FBU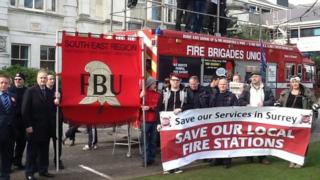 Plans to close two fire stations in Surrey may be challenged in the courts after the Fire Brigades Union (FBU) accused the county council of not consulting properly.
On Tuesday, Surrey County Council's cabinet approved plans to close Sunbury and Staines fire stations.
It plans to replace them with a new base in Spelthorne borough.
The FBU, which is seeking legal advice, said 92% of the people who responded to the consultation rejected the proposal.
Surrey Fire and Rescue Authority put forward plans for Spelthorne borough to have one engine at one fire station - instead of two engines at two stations - under cost-cutting plans.
The county council said the proposal included a second fire engine, with an "on-call" crew that could be called on when required.
'Greater risk'
It said replacing one full time crew would save £880,000 per year.
FBU secretary for Surrey, Richard Jones, said: "This decision will put the lives of firefighters and the public at greater risk.
"It is simply unviable for the council to be able to provide an on-call fire engine for the new station, meaning they will fall back to the single fire engine - an option that was rejected by the local community."
However, a Surrey Fire and Rescue spokesman said: "Spelthorne people told us they didn't want just one fire appliance available 24/7 but to keep two, and we've responded by doing just that.
"Financial pressures and changing demands on the fire service mean we must adapt, but it does also mean we'll give Spelthorne a brand new station and two crews of fully-trained firefighters available 24/7 that will continue to help keep Surrey safe.
"We'll continue to focus the right fire service cover in the right places across the whole county, both in preventing incidents and responding to them."