Council votes for Spelthorne fire service cuts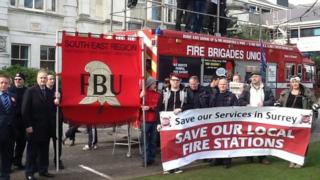 Plans to cut fire services in Surrey have been approved by the county council's cabinet.
Surrey Fire and Rescue Authority put forward plans for Spelthorne borough to have one fire engine at one fire station instead of two engines at two stations, under cost-cutting plans.
The cabinet voted to close the stations at Sunbury and Staines and replace them with a new base in the borough.
The Fire Brigades Union said front line services should not be cut.
Councillor Kay Hammond, Surrey's cabinet member for fire and police services, said: "We need to look at the risk across the whole of the county and we do need to look at saving money.
"Over the last decade there has been a vast reduction in the number of incidents that fire and rescue services have to attend, partly because the preventative work we've done."
'Increased response times'
Surrey County Council said the proposal included a second fire engine, with an "on call" crew that could be called on when required.
It said replacing one full-time crew would save £880,000 per year.
Ms Hammond said fire engines from stations in the surrounding areas could also be called into Spelthorne if needed.
Robert Evans, Labour councillor for Stanwell and Stanwell Moor, said: "I'm really concerned that if they cut the fire cover in Spelthorne from two fire stations and two fire engines to one, this will increase response times across the borough and ultimately endanger property and possibly lives."
He said Spelthorne was the most densely populated borough in the county and needed to have greater cover by the fire and rescue service.
Richard Jones, fire brigade union secretary in Surrey. "Front line services isn't where cuts should be made.
"If these cuts go ahead it will halve the number of people doing the job in future. We are an emergency services and not just a fire service."
Previously Surrey County Council issued a statement on behalf of the fire and rescue service, which said: "We have some tough decisions to make about the fire service for the county and we won't make any changes lightly."
The final decision will be taken at a full council meeting on 11 February.