Stoneleigh Ladbrokes robbery CCTV issued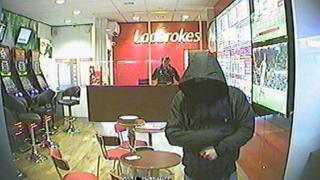 A man who forced a staff member to open the safe and till at a betting shop in Surrey made off with cash in a bag stolen from the shop, police have said.
A CCTV image has been issued showing the robber inside Ladbrokes in The Broadway at Stoneleigh, Epsom at 20:50 GMT on Saturday.
He claimed to be carrying a weapon and police have told anyone who thinks they know his identity not to challenge him.
He was white, in his late 20s or 30s and had a local accent.
His face was covered and he was wearing a scarf, a black hood and jacket and light blue jeans.
"I would urge members of the public not to approach or challenge anyone matching the description of the offender but to contact officers immediately if you can identify him or know his whereabouts," said Det Sgt Antony Preston.