Ancient site hope after airborne scanner used in Surrey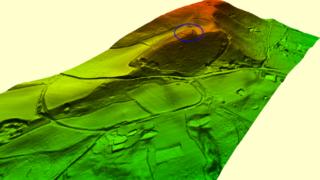 A new form of airborne laser scanning used in an archaeological survey near Haslemere may have revealed an ancient hill fort and burial mound.
The scanner, known as LiDAR, uses infra-red laser to see beneath trees and map inaccessible landscapes.
The survey, carried out by the National Trust at Black Down, has found evidence that people may have lived there from 10,000 years ago.
An exhibition about the findings opens on Wednesday.
National Trust archaeologist, Tom Dommett, said: "LiDAR reveals the humps and bumps which can indicate archaeological sites.
"We are particularly interested in some circular earthworks near the Temple of the Winds, which may indicate Bronze Age burial sites, and a possible Iron Age settlement area lower down the hillside at Castle Copse."
The exhibition, which opens at Haslemere Museum, explains the results of the survey.