Croydon bid to expand cemetery on Surrey green belt deferred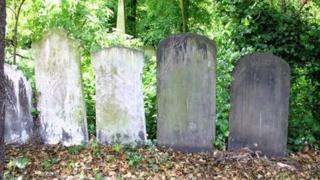 Plans to extend a cemetery on greenbelt land in Surrey have been taken off the agenda hours before they were due to be considered by planners.
Croydon council, a London authority which runs Greenlawn Memorial Park in Warlingham, wants to expand the site.
A report by Tandridge council officers said there was a chronic shortage of burial space and originally recommended the plans for approval.
A spokeswoman said they were later withdrawn for more detailed assessment.
Two parish councils and a residents' association oppose the proposals.
'Site to be screened'
Karen Morris, who runs stables near the planned extension site, said she feared the loss of her business and claimed the move would "completely change the community".
"It will be sort of Croydon coming into our area, really," she said.
She said local opposition had included more than 200 written objections and a petition of more than 100 signatures.
Papers submitted to councillors said the extension would provide 3,216 burial plots for Christian burials and 261 for Muslim burials, with an additional natural burial area, a children's area, and a site for cremated remains.
As a result, the site would provide a total of 7,000 burial plots which would provide enough burial plots for the next 58 years.
Tandridge Council said the application was withdrawn from the agenda on Thursday afternoon to give the Environment Agency (EA) the chance to review its advice.
In addition, a more detailed needs assessment had been submitted.
"We apologise for the short notice and to all those who have already invested time reading the report and considering the implications," the council said in a statement.
"This means before the application is re-presented to the planning committee further consultation with the community and the EA will be carried out."