'Better care' needed to end Surrey mental health patients' detention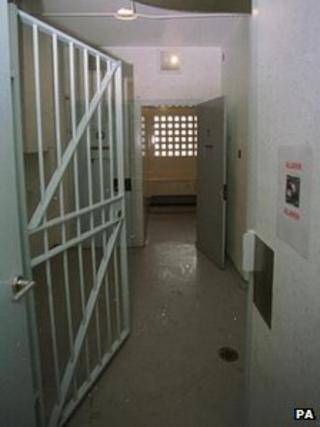 Better care for vulnerable mental health patients is needed in order to stop them being kept in cells, a senior Surrey police officer has said.
It comes after a detective tweeted that the force was asked to take a patient to cells because no bed was available.
Police have powers to take people suffering mental health issues in a public place to a "place of safety".
Assistant chief constable Stuart Cundy said too many patients were ending up in custody.
Her Majesty's Inspectorate of Constabulary said legislative codes of practice were clear that the "place of safety" outlined in section 136 of the Mental Health Act should be a hospital, or other health setting in all but "exceptional" circumstances.
But many patients around the country end up in police cells.
Between April and December 2013, 81% of people detained under the Mental Health Act in Surrey were taken to an NHS mental health suite for assessment.
'Simply no alternative'
The remaining 19% were taken to police cells, which the NHS said was the most suitable place to protect both them and others.
About 9% were taken to cells because no mental health suite was immediately available, the NHS said.
Mr Cundy said a cell was not the right place to put someone in crisis.
"At present too many end up in custody because there is simply no alternative available," he said.
"Police officers and staff are not specialists in dealing with mental health issues but between April and November this year 20% of those detained under the Mental Health Act had no alternative but to stay in custody.
"This is about more than establishing places of safety, but recognising that the police should not often be the primary agency for responding to people suffering with mental illness."
'Working together'
He said the force was continuing to liaise with its partners in health and social care to try to improve mental health provision.
Jo Young, director of quality at Surrey and Borders Partnership NHS Foundation Trust, said access to beds was not the issue because 64% of the detainees were found not to need hospital admission and 11% needed no mental health follow up.
"This is not about bed capacity, but about us all working together to provide appropriate mental health support to vulnerable people in crisis," she said.
"We have agreed a new multi-agency work plan, with the police, to reduce inappropriate section 136 detentions and the use of places of safety."
She said the trust welcomed any new dialogue with Surrey Police and would "continue to do all we can to ensure that our places of safety are fully operational to receive people for assessment".