Fire station and shopping complex plans for Woking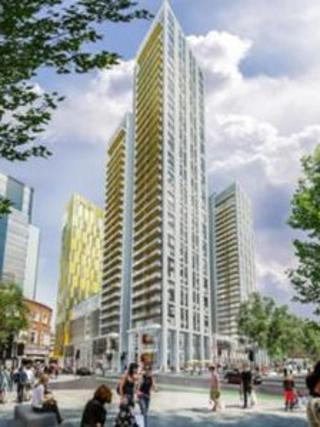 Plans have been submitted for a fire station and shopping complex in Surrey, which is expected to create 730 jobs.
The two applications, for the western side of Woking town centre, also include a spa and gym in a 21-storey tower and two apartment blocks.
The Victoria Square complex is to cover the area of the former Woking market, post office and old fire station.
It will include 125,000 ft of retail space, including a Marks and Spencer store, and two public plazas.
Nearly 400 homes are also planned, along with space for a medical centre and 380 extra parking spaces.
John Kingsbury, Woking Borough Council leader, said: "With up to 730 jobs being created, Victoria Square will provide an exciting new quarter for Woking, anchored by Marks and Spencer, which is making a welcome return to the town."
David Hodge, Surrey County Council leader, said: "Our new fire station proposals are important for Woking.
"It will give our crews state-of-the-art facilities and then free up the old site for a regeneration that will grow Surrey's economy and create hundreds of local jobs."
The new fire station will be built in Goldsworth Road and will be bigger than the existing facility with residential units above.
The detail design of the plans follow public consultation on the scheme.