Redwood Care Centre in Guildford faces closure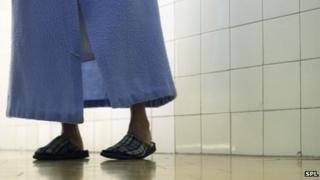 A care home in Surrey could close because of staffing and financial difficulties, its operators have said.
Shaw Healthcare is consulting on whether to shut Redwood Care Centre in Merrow, Guildford, in March due to staff shortages.
The home's contract with Surrey County Council ends in July.
The home provides care for 40 people who are frail or have dementia. Shaw said it was working to ensure residents' welfare was "paramount".
However, Frances Dyble-Goode, who founded the Runnymede Dementia Carers Support Group, said the closure would have a terrible impact on residents.
"One thing that really upsets people with dementia is change," she said.
"These people will be in a very fragile state."
'Welfare paramount'
A spokesman for Shaw Healthcare said: "Unfortunately, for a significant period of time we have been unable to attract and retain staff in sufficient numbers to maintain continuity within our skilled workforce.
"The staffing situation has impacted on Redwood Care Centre's financial performance and in turn its ongoing financial viability.
"Therefore we are currently consulting on the proposal to close the home slightly earlier, at the end of March rather than the scheduled end of the contract in July.
"We are currently working with all those involved including staff and Surrey County Council to ensure that the existing residents' welfare is paramount."