Guildford Borough Councils seeks 'clarity' over green belt law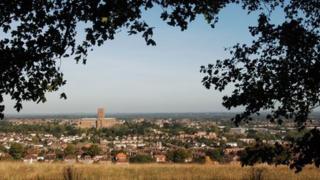 Councillors from Guildford have met with the planning minister to seek "clarity" over green belt laws.
Guildford Borough Council wants to remove green belt status from 15 villages in the area as part of the local plans for housing.
Petitions titled, Save Hogs Back and Keep West Horsley in the Green Belt, have been submitted to the council.
Council leader Stephen Mansbridge and cabinet member for planning, Monika Juneja, met with Nick Boles MP.
The council said green belt land makes up 89% of the borough.
On Monday night a debate on petitions opposing the possible house building was attended by 115 people and watched by 238 online.
At the time, Ms Juneja said: "The government requires us to consider all sites across the borough for potential future development, and our priority will be to look at brown-field sites first."