Alps murders: No further action against Zaid al-Hilli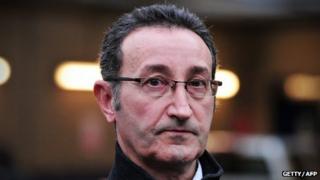 A man held in connection with the murders of four people, including his brother, in the French Alps has been freed from bail.
Surrey Police said there was not enough evidence to charge Zaid al-Hilli, 54, from Chessington.
French Police, however, said Mr al-Hilli was still their main suspect.
His brother Saad al-Hilli, 50, was shot with his wife Iqbal, 47, his mother-in-law Suhaila al-Allaf and French cyclist Sylvain Mollier on 5 September 2012.
Daughters Zainab, seven, and Zeena, four, survived the attack near Annecy.
Zaid al-Hilli was arrested on 24 June on suspicion of conspiracy to commit murder.
A Surrey Police spokesman said: "At this stage there is insufficient evidence to charge him with any criminal offence and no further police action is being taken at this time.
"This remains a French-led investigation and officers from the Surrey and Sussex Major Crime Team continue to work closely with the French authorities."
'Cover up'
Speaking outside his home, Mr al-Hilli said he felt: "Really just relieved, that is all."
The bodies of the couple, from Claygate, Surrey, Ms al-Allaf and Mr Mollier were found on a remote forest road in Chevaline near Lake Annecy.
The two young girls survived the attack, one by hiding under her dead mother's skirt.
The family were on holiday by Lake Annecy when they were attacked.
Zaid al-Hilli was arrested amid claims he doctored documents to ensure he inherited the family estate following the death of his father.
He denied arranging the killings and said the accusations were "ridiculous".
He accused French police of "covering up" the real target of the killings and also offered to take a lie-detector test.
The al-Hilli brothers were said to have been locked in an inheritance dispute centred on the £825,000 home in Claygate where Saad and his family lived after their mother died from a heart attack in 2003.
Zaid, who inherited half the property, claimed that in 2011 his brother began to demand his share of the house "there and then" and pinned him down during a row.
The two men never spoke again, except through lawyers.
In November, French investigators said they were looking for a mystery motorcyclist who was seen near the crime scene.
One lead in tracing the man was that he was wearing an unusual helmet, only a few thousand of which had been made.