Hundreds follow Guildford green belt protest debate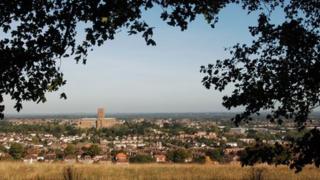 More than 350 people watched Surrey councillors debate petitions protesting at possible house building in the green belt.
Guildford Borough Council said 115 people attended Monday night's meeting in person and 238 watched live online.
Petitions to "Keep West Horsley in the Green Belt", and to "Save the Hogs Back" were submitted in consultations on the new Guildford local plan.
Big screens were set up to let people see the debates at the council offices.
'Consider all sites'
"We understand how strongly some in our community feel about the green belt land that makes up 89% of our borough," said Councillor Monika Juneja.
"The government requires us to consider all sites across the borough for potential future development, and our priority will be to look at brown field sites first."
The local plan will be a framework for development in the borough until 2031.
Campaigners set up a petition against the building of 821 homes on green belt land at West Horsley, signed by 660 people.
Almost 1,000 people signed a petition against plans for 2,000 new homes on Blackwell and Manor Farms on green belt land near the Hogs Back.
The council said a petition from residents about Mole Valley District Council's consultation involving the green belt in Effingham and Bookham would be considered at a future meeting.