Farnham woman 'spent £200,000 on scam mail over 56 years'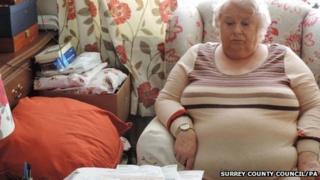 A woman says she has paid out more than £200,000 to scam mail fraudsters across more than half a century after becoming convinced she would win a fortune.
Sylvia Kneller, 76, from Farnham in Surrey, said she became addicted to replying to scam letters after first responding to them when she was 20.
She has spoken about the impact on her life after Surrey Trading Standards persuaded her to stop.
Spokesman Steve Playle said it was the worst case trading standards had seen.
Ms Kneller, who suffers from arthritis and heart problems, responded to letters which included claims she had won large sums of money but also told her she needed to send processing fees before she could claim the prize. Recent letters asked for £20.
'Never won penny'
"It does get you all excited and they shouldn't do that to old people. It's not right," she said in a video posted on the Surrey County Council website.
"The amount of money, £200,000, is what I have spent out thinking I was going to win, but I never got a penny.
"But in your mind you believe it. Other people start on at you and you know they are right but you still believe, you still want to do it, it becomes like an addiction really.
"My first husband, we parted company over it because he was fed up with it and he ended up with my best friend.
"I do not send money out now because I can't afford it. If I had kept my money in my purse I would have been rich."
Mr Playle said his team was investigating the cases of 80 people who had repeatedly fallen for scam letters and would not be surprised if there were worse cases than Mrs Kneller's of which they were not aware.
'Unscrupulous scammers'
"We want to encourage people to speak to their elderly neighbours and friends and if they are receiving these types of mail, to make sure they are not responding to them," he said.
"They are not going to get any money - they are just lining the pockets of fraudsters.
"Sometimes people are quite lonely. It's their only contact with the outside world.
"Sylvia is one of those people and it's quite brave of her to come forward and be highlighted as a victim to warn others."
Councillor Helyn Clack said: "Our trading standards team was able to help in this distressing example, but we also know unscrupulous scammers continue to target the most vulnerable people.
"We urge other victims out there to come forward so we can take action."
Gillian Guy, chief executive of national charity Citizens Advice, said scammers had "never been shy of profiting from other people's misfortune".
"In the last 50 years, scammers have been quick to embrace new ways to rip people off, including the internet and mobile phones.
"Our evidence from the last few years shows that scammers are exploiting difficult economic times and targeting people with fake job offers, training scams and phoney help with debt," she said.
"Scams are crimes so it is vital they are reported."