Gosden House special needs school faces closure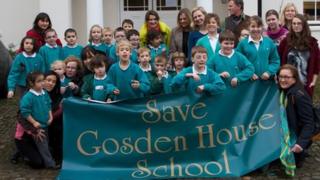 A school for children with learning difficulties is facing potential closure as part of a reorganisation of Surrey's schools.
An online petition to save Gosden House in Bramley has so far attracted more than 2,000 names.
Surrey County Council is consulting whether to shut the school and use the building instead to teach pupils with "high-functioning autism".
It said no decision had yet been made about the future of the school.
Gosden House has about 120 pupils aged between five to 16 years old.
'Iconic institution'
A spokesman for Surrey County Council said: "We have more places than we need for pupils with some types of learning difficulties and too few for those with high functioning autism."
He said if the plans went ahead, existing pupils would either stay at the school until they had finished their education or be transferred to another school "which would support their long-term needs".
Laura Sabharwal, from the Gosden House school parents' action group, said: "We fully appreciate that Surrey must cater for the full range of needs, but we cannot stand idly by whilst Surrey destroys this iconic special-needs institution.
"It seems that the proposals are based entirely on financial criteria rather than the fact that this school is profoundly changing the lives of vulnerable children and families in the county."