Redhill runway 'would help combat flooding'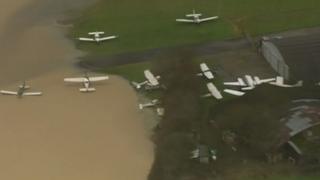 Building a concrete runway to replace grass at a Surrey airfield would help businesses cope with bad weather, it has told a public inquiry.
The owners of Redhill Aerodrome say replacing its three grass runways would protect 140 jobs and create 120 more.
Reigate and Banstead and Tandridge councils both rejected the scheme last year, saying the plans were inappropriate for the green belt.
The airfield flooded as a result of heavy storms in the last two weeks.
"At the moment we have a grass runway which gets waterlogged incredibly easily," chief executive Ann Bartaby told the BBC.
"Any downpour at any time of the year can close our runway and that makes it incredibly difficult for the businesses that are trying to make a living on the aerodrome because they cant predict when they are going to be able to fly."
The four-day public inquiry at the Harlequin Centre was due to end on Friday but may continue into next week.
'Embrace opportunity'
Business leaders say transport and infrastructure are essential for the local economy.
"The jobs that are coming from this development and the existing jobs there are essential," said Jeremy Taylor, from the Gatwick Diamond Business Association.
" I just wish the people in this area would embrace the opportunity rather than go against it."
Residents groups and Surrey Campaign for the Protection of Rural England are among objectors who have given evidence to the inquiry.
They say intensified use of the airfield will lead to problems of noise, light pollution and increased traffic and that it would be out of character in the rural location.
Reigate Conservative MP Crispin Blunt is also speaking. He, and East Surrey MP Sam Gyimah, are both against the hard runway.
Planning inspector Diane Lewis has said she will look at particularly at the effect of the proposed development on nearby Salfords Primary School and air traffic safety.