Flood warnings as River Thames and Wey rise in Surrey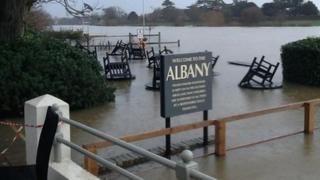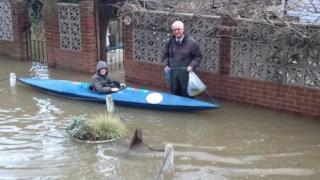 People in parts of Surrey have been warned to be prepared for flooding as river levels continue to rise, with more rain forecast.
The Environment Agency has issued 10 flood warnings for the River Wey, the Thames and the River Mole.
Temporary flood defences were installed at one end of High Street, Guildford, to protect the town centre.
Flooding has affected Guildford, Horley, East and West Molesey, Staines, Sunbury, Thames Ditton, and Weybridge.
'Water levels rising'
The Met Office has a severe weather warning for rain in parts of the South East, with heavy showers forecast. The warning is in force until 06:00 GMT on Wednesday.
The warning says the public should be "aware of the risk of further localised flooding, especially in areas which have been affected in recent days".
Sally Coble, of the Environment Agency, said: "Fortunately that rainfall last night [Monday] was not as much as forecast but we still put those temporary defences up [in Guildford] just in case.
"But we're going to keep those defences up for the next couple of days because of the additional rain that is forecast."
Chris Townsend, leader of Mole Valley District Council, said the authority was working closely with the Environment Agency and emergency services to respond appropriately to any new flood warnings.
The council website is being regularly updated with advice and information for affected residents, he added
Mr Townsend said: "Sandbags continue to be available at the depot. Nothing can make up for the terrible disruption that many of our residents have experienced and our thoughts are with all those who have been affected by the flooding."
Residents in Guildford have also been urged to call the local authority if they need sandbags or help from flooding.
Power outages affected more than 17,000 people across Surrey at the height of storms over the Christmas period.
Tributes have been paid to Harry Swordy, who was washed out to sea at Loe Bar in Cornwall on New Year's Day.
The 27-year-old, from Guildford in Surrey, who had gone for a paddle with friends at Loe Bar beach, in Cornwall, was described as being "an amazing character" by friends.