River Wey alert remains amid Surrey flood clear-up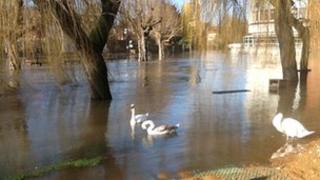 Emergency teams are still dealing with a significant clean-up operation after floods in Surrey and remain on high alert, a council has said.
Waverley council said some people who had to abandon their homes at Christmas remained in temporary accommodation.
Many were left with excess food waste after power cuts and have been asked to put it out for recycling.
Council leader Robert Knowles said he had raised the issue of trees growing near power lines with the government.
'Make preparations'
Mr Knowles urged residents to be prepared for severe weather and said there were still concerns about further flooding this weekend.
He said: "We are encouraging people now to make preparations because it's quite early in the winter and we could have snow, we could have more of this kind of weather."
After the River Wey burst its banks over Christmas, the council used boats to evacuate flooded properties and set up rest centres in Farncombe and Guildford.
A residential home and 13 council properties were also evacuated with the elderly residents moved to alternative accommodation.
Waverley is a large and rural borough, but the council had been able to provide a basic service, Mr Knowles said.
Power outages affected more than 17,000 people across Surrey at the height of the recent storms.
Fourteen flood warnings remained in place for the South East on Saturday as the Environment Agency warned of continuing heavy rain and strong winds.
The agency said flooding of low-lying properties near the River Wey was expected.
It said rivers would remain sensitive to further rain this weekend.