Royal Surrey County Hospital 'struggling with patient numbers'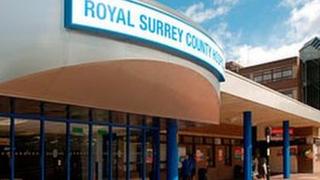 A Surrey hospital has been criticised over waiting times of up to four hours and delays in pain-management.
Care Quality Commission inspectors found the Royal Surrey County Hospital in Guildford was struggling to cope with the volumes of patients.
But the CQC report also praised the hospital, saying staff generally were caring and had mostly good leadership.
The hospital said it was aware of some problems, but the findings on pain management in A&E came as a surprise.
Despite the criticisms, the report concluded that overall services were "safe, effective, responsive, caring and well-led".
Professor Sir Mike Richards, chief inspector of hospitals, said: "Staff we spoke to were positive and engaged, and patients we spoke to were generally very positive about the care that they had received at the hospital.
"When we inspected the hospital, we found that most departments were operating at full capacity - and that this was, at times, having a negative impact on patient experience."
Four-hour waits
Maternity services, paediatric care and cancer-care services were praised. But inspectors found that the eye outpatient service was especially overcrowded.
"Patients said they had been waiting for up to four hours, and data that we received before and during the inspection confirmed that this was a regular occurrence," the report said.
"We had concerns that eye testing was being performed in a busy corridor and that there were significant delays in communicating with patients' GPs, which had the potential to disrupt patients' treatment," it added.
Chief executive Nick Moberly told the BBC the hospital had "dealt with" the immediate problems, adding: "I'm really grateful to them for having highlighted an issue that in frankness, the trust hadn't had on its radar until then."
He said the eye department had been a victim of its own success and had experienced "really bad growing pains".