Emily Davison tribute tree replaced after dying off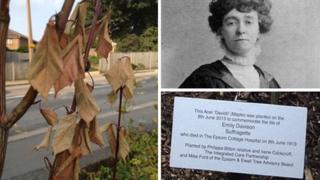 A tree commemorating the centenary of the death of suffragette Emily Davison has been replaced after dying just months after being planted.
The maple was planted in the grounds of Epsom Cottage Hospital, where the iconic campaigner died after being trampled by a horse at the Epsom Derby.
But it had to be replaced after developing a fungal disease when it was transferred from a nursery.
Those behind the memorial are optimistic the new one will flourish.
The tree, Latin name Acer davidii, was provided by the Epsom and Ewell Tree Advisory Board to ensure a lasting tribute to Miss Davison, who played a key role in securing parliamentary voting rights for women in the UK.
Her death in 1913, at the age of 40, after being trampled by King George V's horse, Anmer, instantly made her a martyr for the suffragette movement.
'Let down'
The commemorative tree planted on 8 June in her honour, however, died a less noble death.
Mr Ford, chairman of the advisory board said although the old maple had looked as though it had been neglected, it had actually been well looked after.
He said it had been suffering from verticillium wilt, which he said maples sometimes suffered from after being "moved from the nursery into the permanent planting area".
"It's very upsetting. Unfortunately, it let us down and we had to put a new one in," he said.
Mr Ford and his volunteer colleagues cleared the site and replaced all the soil.
He added: "Hopefully, this one is going to survive.
"I'm looking forward to it bursting into life next April."