Surrey MPs oppose Redhill Aerodrome hard runway plans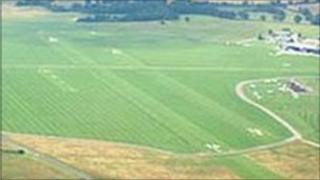 Two Surrey MPs have lodged their formal opposition to a planning application for a concrete runway to replace three grass runways at Redhill Aerodrome.
Earlier this year, both Reigate and Banstead Borough Council and Tandridge District Council rejected the plans.
A planning inspector will review the decision at a public inquiry in January after the aerodrome appealed.
MPs Crispin Blunt and Sam Gyimah said there were "no special circumstances" to justify such development.
In a joint letter to the Planning Inspector, they said that since opponents had "fought off numerous applications over the years for a hard runway at Redhill Aerodrome, we can assure you that there are no special circumstances to justify any possible development of the green belt in this area".
Mr Blunt, who represents Reigate, and Mr Gyimah, who represents East Surrey, claim the proposal would "have a detrimental effect on the existing rural landscape… and would bring an increase to noise and light pollution", in the area.
The aerodrome, near Gatwick Airport, is home to more than 20 companies employing hundreds of people, and has been in operation for about 80 years.
Bosses at the site said a concrete runway would give it the potential to increase flights from 60,000 to 85,000 a year.
They said it would also create 140 new jobs and secure the future of the firms already at the business park.