Attacks on Epsom and St Helier hospital staff fall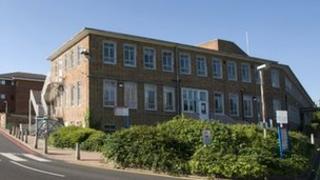 Numbers of attacks on NHS staff at Epsom and St Helier NHS Trust have fallen, figures show.
The hospital trust said there were 74 recorded assaults across its hospitals from 2012-13, compared with 117 in the previous year.
Chief executive Matthew Hopkins, said he was pleased at the decrease but one attack was one too many.
The NHS trust operates a zero-tolerance policy on physical and verbal assaults towards its 4,400 staff.
A&E charge nurse at St Helier Hospital, Anthony Boobbyer, said he had seen colleagues punched and kicked.
"We tend to see more verbal abuse, which again is unpleasant and this tends to arise when patients are frustrated about their situation," he said.
"I'd like to remind the public we are here just trying to do our job, helping sick and injured people."
'Working with police'
Mr Hopkins said the trust had bucked the national trend, which showed a rise of 5.8% in reported assaults from 2011-12 to 2012-13.
"We will continue to do all we can to ensure our staff feel safe at all times," he said.
"This includes making sure staff are trained to deal with difficult situations and by working with police to ensure offenders are prosecuted."
He said the data had been gathered by NHS Protect, which works to identify and tackle crime across the health service.
The trust runs Epsom Hospital in Surrey and St Helier Hospital in London.