Sutton hospital services to move to Epsom and St Helier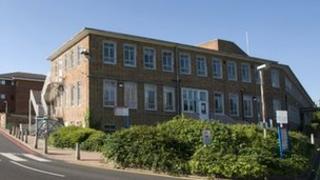 Plans to move most services from the smallest hospital in a south London trust have been approved by the Epsom and St Helier NHS Trust.
Under the plan about 60% of services at Sutton Hospital will move to St Helier in London and about 20% to Epsom Hospital in Surrey.
The Sutton Clinical Commissioning Group has also approved the move.
Services will be moved from Sutton Hospital between February and August, the trust said.
Jackie Sullivan, the chief operating officer at the trust, said: "It will allow us to maintain the full range of clinical services we currently provide, invest in better quality surroundings at St Helier and Epsom, and for many people, provide care closer to where they live."
Sutton Hospital treats about 1,500 patients a week compared with nearly 8,100 at St Helier and nearly 4,900 at Epsom, and about 200 of the trust's 4,300 staff work at Sutton.
Making the changes would improve the trust's running costs by about £3m a year.
Blood testing, pain management and chronic fatigue clinics will remain at Sutton. Urology and some eye clinics will be transferred to Epsom, the trust said.
St Helier will take over the eye unit hub and general out patient clinics.