Frimley Park Hospital named Trust of the Year by Dr Foster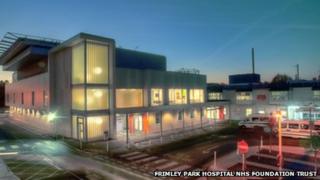 A hospital trust serving more than 400,000 people in Hampshire, Berkshire and Surrey has been named as the best in the south of England.
Frimley Park Hospital NHS Foundation Trust was given the title of Trust of the Year in the Dr Foster Hospital Guide 2013 awards.
Last year it was named national Hospital of the Year runner-up.
Andrew Morris, chief executive, said both awards showed staff's continued commitment "was the best for patients".
'Can do better'
Dr Foster bases most of its findings in its annual hospital guide on mortality data, which it considers to be a reflection of safety and quality of service.
Mr Morris added: "I believe that a lot of our success has come from our commitment to enabling more of our senior doctors to provide services for longer, including in the evening and at weekends.
"But we know we can do even better and we must remain self critical if we are to stay among the very best."
The South of England NHS region comprises the regions previously covered by the former South West, South Central and South East Coast strategic health authorities.