'Middle-class' drinkers behind soaring hospital admissions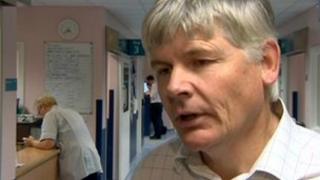 'Middle-class' drinking habits are behind much of a steep rise in alcohol-related hospital admissions, a consultant has said.
The number of alcohol-related hospital admissions has more than doubled in the last 10 years, official figures show.
Dr Christopher Tibbs, medical director of the Royal Surrey County Hospital in Guildford, said the area's affluence had contributed to the problem.
He said many patients had been drinking heavily socially since the late 70s.
"It's people of my age who are coming in now," he said.
"My parents' generation were rather more frugal about their alcohol intake.
"One didn't have this sort of middle-class accumulation of slow alcohol intake over many years."
Liver disease
Surrey County Council Public Health and Wellbeing Board figures show there were 1,532 alcohol-related admissions per 100,000 people in Surrey in 2011/12. In 2002/2003 there were 695.
The council said treating people for alcohol-related problems cost the NHS in Surrey more than £70m a year.
It said long-term health risks included cancer, stroke, heart and liver disease, high blood pressure, anxiety, depression and insomnia.
Prof Aftab Ala, consultant hepatologist and gastroenterologist at Frimley Park Hospital, said 75% of patients on his ward had alcohol-related liver disease.
"It's a real tragedy because we are seeing these patients present in their 30s, 40s and 50s with chronic liver disease," he said.
"Alcohol-related problems do not necessarily manifest overtly - the problem slowly builds up over a number of years."
Eric Appleby, chief executive of Alcohol Concern, said a lot of people had got used to the idea that drinking a bottle of wine at home with a meal regularly do no harm.
"If you are doing that every night then that will, in the long-term, store up problems for you," he said.