Prison escape Mexico drug dealer Alan Sibley jailed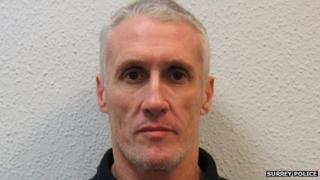 A drug dealer who walked out of prison in Sussex and fled to Mexico has been jailed for 23 years for running a drugs smuggling operation aimed at importing cocaine into the UK.
Alan Sibley, 55, formerly of Lightwater, Surrey, was found guilty of conspiracy to import cocaine and escaping from lawful custody.
Guildford Crown Court heard cocaine was smuggled through Southampton Docks.
Jurors were told the drugs were hidden in bathroom sinks and furniture.
'A greedy man'
The court heard Sibley walked out of Ford Open Prison in West Sussex in 2005 and used a false identity to reach Cancun.
During the trial, Sibley denied the charges and claimed he knew nothing about the drugs hidden inside several metal sinks shipped to the UK from Mexico.
Under cross-examination, he admitted he had made the sinks but said he did not know about the cocaine.
"I have shipped furniture all over the world and it is always checked at the borders," he said.
"They could have X-rayed these sinks or chopped them in half. I had no fear."
He also claimed that if he had wanted to smuggle drugs, he would have "got away with it".
He said: "This is going to sound arrogant, but if I had applied myself to this, you would never have found [the drugs]."
Earlier this year, he was extradited from Mexico and brought back to Heathrow Airport by officers from Surrey Police.
Det Sgt Simon Richards described him as "a greedy man" who had enjoyed a lavish lifestyle.
"I think he's a man who thought labels were important, and a man who never did an honest day's work.
"He lived entirely off the proceeds of a very serious and dangerous drug-dealing lifestyle," he said.
On Wednesday, jurors unanimously found Sibley guilty.
He was jailed for 22 years for the drugs offence and given a further 12 months for the prison escape.
Judge Peter Moss described Sibley as a "dyed-in-the-wool, committed drug dealer in a filthy trade that causes great misery to people in this country".
He said the 23-year jail term would start in December 2014 after Sibley's release from Belmarsh Prison where he is still completing his original sentence.
Sibley was jailed in 2001 for possession and supply of drugs.